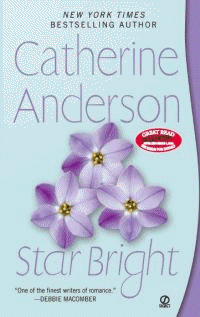 PW calls Catherine Anderson "A major voice in the romance genre" and I have to agree. If you've not read Anderson and you love a good romance with believable and loveable characters I strongly recommend any of her novels. But, the one coming out January 6, 2009 is the one everyone is talking about.
Star Bright is the story of a woman who escapes her dangerous and abusive husband one night on a cruise ship. She changes her looks and makes her getaway to find herself working for a handsome and charming cowboy.
The chemistry the characters have makes this a true romance of quality.
Anderson has a book trailer for Star Bright and you can find more at the author's site-
http://www.catherineanderson.com